"She tells me it's over. I say okay, it's over—and then somehow it just don't stick."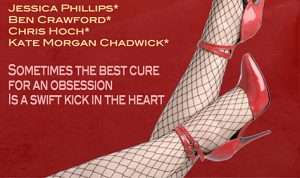 lonely lives are transformed by the discovery of 21 nudie snapshots. Judy, the sharp-witted bartender, never lets her disability get in the way of what she wants—except when it comes to her boss, Dan, a big-hearted guy with no head for business, who is busy working out his issues—once again—with his girlfriend Bonnie, a waitress so comely that guys give her $10 tips just for wiping up the beer she spills on them. Only Chet, a steady customer, gives Judy a second look, but she's got no interest in an out-of-work meatpacker who imagines himself the next Ansel Adams. It all comes to blows one Monday night when Judy decides to make her play, unaware Chet has cooked up a convoluted scheme to woo her that involves a clandestine photo session with Bonnie and a secret trade for a classic motorcycle. A deceptively subversive small cast comedy stage play about redefining beauty in an image-obsessed culture. Semi-finalist, Eugene O'Neill National Playwrights Conference
Semi-finalist, Hot City Theatre Greenhouse Play Festival
Developed through a grant from the Montgomery County, Md., Arts and Humanities Council and through the support of the Playwrights' Center, Minneapolis; Theatre of the First Amendment, Boston Playwrights Theatre, New Jersey Rep, Playwrights Theatre of New Jersey and Woolly Mammoth Theatre
Details
This small cast comedy stage play, suitable for mature audiences, is a fun but serious look at America's cultural obsession with beauty. Featuring two roles for men and two roles for women, this stage comedy examines the concept of beauty in a deeply subversive way by placing a character with a disability at the center of a love triangle. Throughout literary and theatrical history people with disability are either treated as villains or pariahs or saints–and the character of Judy is none of these. She is simply very human and like many humans–looking for love in the wrong places and in too much of a hurry to go horizontal. A wildly funny treatment of a seldom-discussed subject, Dirty Pictures takes the audience on a wildly entertaining romp while forcing it to reconsider preconceptions about beauty and sexuality.
Time: 1982
Place: Weld County, Colorado
Run Time: 90 minutes
Tips
2 F, 2 M
Cast of Characters:
JUDY KNOLL, a bartender and short-order cook. An attractive woman, early to mid-30s, whose hard edge covers the uncertainty that arises from living with a long-term disability.
CHET TRAHANT, a regular customer, late 30s. An unemployed Viet Nam veteran handy with a wrench, he is also an amateur photographer.
DAN BRIGGS, the bar owner, 39, behind on his bills, but not admitting to it. Big-hearted and cloudy-headed, Dan is a hopeless romantic whose congenial personality and natural sex appeal earn him constant forgiveness for bad behavior and stupid moves.
BONNIE RUTLEDGE, Dan's girlfriend and waitress in the bar. Early 20s. A shapely beauty. Ill-educated but ambitious, she is no bimbo, but is well aware of her assets and not afraid to use them.
Place: A roadhouse in Northern Colorado.
Time: 1982. A rainy night in autumn.
History
Developed in workshops and readings at the Playwrights Center, Minneapolis; Theatre of the First Amendment, Boston Playwrights Theatre, New Jersey Rep, Playwrights Theatre of New Jersey, and Woolly Mammoth theatre.