MIRACLE IN MUDVILLE
COMEDY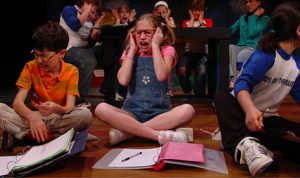 A comedy about time-traveling little leaguers.
Casey is the worst ballplayer in the Mudville Little League, the butt of jokes and an embarrassment to his Dad, who brags of his glory days in the outfield. But he is not alone in feeling inadequate; his friends Murphy and Hector suffer by comparison to their parents, too. Then a chance encounter with the ghost of the town's late librarian throws Casey and his friends into a time warp, where they discover that some of their parents' big adventures didn't quite happen the way they said. Published by YouthPLAYS.com
Details
Miracle in Mudville is a riff off the poem, Casey at the Bat, but this Casey is a completely average little leaguer carrying a heavy burden of trying to live up to his Dad's fond memories of his glory days on the field. Developed for Imagination Stage's Speak Out series, this large cast comedy has been performed with as many as 50 students. Exploring themes of parental pressure and the burden of expectation on heavily scheduled young people today, the play is an excellent choice for school theater, providing a humorous vehicle for dialogue among students, parents, and teachers.
Run Time: 65 minutes, no intermission
Tips
Cast of Characters:
5-11 males and 13-17 females

There are 3 roles for either gender

Most roles are age appropriate for middle school, though it is possible to cast older actors in the roles of the adults.
History
Originally produced by Imagination Stage as part of its Speak Out on Stage Program, this large cast stage comedy has been a popular choice for middle school drama groups.

Tibbits Stage, of Coldwater, MI, produced the play with more than 50 kids.