"There's gotta be somethin' wrong with somebody who can't make a decent strawberry jam."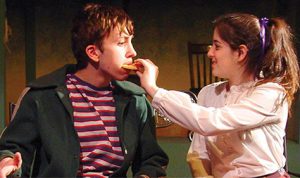 A boy who plays go-between discovers the down side of deception in this romantic romp set in 1950s Appalachia.
1952. Sixteen-year-old Neely Cole, awkward and tongue-tied, has always suffered a poor comparison to his much-admired older brother, Aidan, now fighting a distant war in Korea. Aidan writes poetic letters home to his long-time girlfriend Regina Miller, who is unaware that her boyfriend has recruited Neely to play secret go-between with a different girl, Emily Abbott. At first Neely considers the assignment a game to relieve his boredom, but as Emily's attachment to Aidan grows, he begins to struggle with his own nagging conscience and an unspoken wish to claim Emily for himself. Published by Dramatic Publishing
Details
Penny Candy is a small cast comedy stage play about young people tipping their toes into the turbulent waters of romance for the first time. Set during the Korean War, in a rural part of Pennsylvania, the play explores themes of personal responsibility and integrity, but it also touches on the devastating impact of the Red Scare and Cold War era paranoia. For these reasons, Penny Candy can be a good fit for school theater in search of a small cast comedy, as it provides an entertaining vehicle for introducing young audiences to this pivotal era of American history.
Run Time: 75 minutes
Tips
Cast of Characters:
7 roles for females and 2 roles for males, ages 12 to 17
Appropriate for middle school and high school performing groups as well as youth theater and Theatre for Young Audiences
History
Originally produced by Imagination Stage as part of its Speak Out on Stage program, Penny Candy has since been produced by youth theaters and high school drama groups in the United States and Canada.