THE YELLOW STOCKING PLAY
QUICK-CHANGE MUSICAL COMEDY
"She's forceful, yes. But beguiling also. It's a rare feminine art. Spend a little more time with the ladies, you'll see what I mean."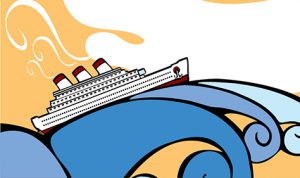 The show must go on—even if you can't recognize it.
Book by D.W. Gregory, lyrics by Sarah Knapp and D.W.G., music by Steven Alper.
Twelfth Night is the inspiration for this quick-change musical comedy about a 17th Century Shakespeare troupe embarked on a disastrous tour of the Continent. Food poisoning, drowning, duels and avalanches befall the actors one by one–until only four of them remain. Minutes before the curtain rises on their next-to-final show, the ingénue elopes with the town innkeeper, leaving a company of three to pull off the most frantic play in the repertoire. But her lover, Gropio, is too heart-broken to go on, while her confidante, Tremolo, just refuses to kiss a man. It falls to Simpatica, the leading lady, to recast and revise on the fly. Her biggest challenge is how to keep the backstage drama from spoiling the onstage comedy. One more stop, and they all go home to Parma—if they live that long!
SIMPATICA: What are we doing today? Is it the Yellow Stocking play — or the Ghost at Elsinore?
TREMOLO: We're doing Yellow Stockings. It's already posted.
SIMPATICA: We can't do Yellow Stockings with just three. Ghost at Elsinore was a stretch at four.
GROPIO: Ghost at Elsinore is a complete downer. We should rewrite that one; make it a comedy.
SIMPATICA: A comedy?
GROPIO: Marry off Hamlet and Ophelia. Let Gertrude and Polonius get it on. That's what audiences want: Middle-aged sex.
SIMPATICA: Not today.
Details
Book by D.W. Gregory, author of Radium Girls and Salvation Road. The music and lyrics are by writing team Steven M. Alper & Sarah Knapp, whose musical version of Mark Harelik's The Immigrant received two Drama Desk award nominations when it was produced off-Broadway.
Run Time: COMING SOON
Tips
Cast of Characters:
THE COMPANY:
GROPIO, a self-absorbed actor in a broken-down traveling troupe
TREMOLO, his jumpy fellow cast member
SIMPATICA, the last remaining female member, struggling to hold it all together
THEIR PARTS:
ORSINO, a lovesick duke
VIOLA, survivor of a shipwreck, later disguised as Cesario, a servant to Orsino
LADY OLIVIA, in mourning for her lost brother
FESTE, a clown, servant to Lady Olivia
MALVOLIO, her trusted steward
SIR TOBY BELCH, her uncle, uncouth of manner and feeling
MARIA, her maidservant, enemy to Malvolio
SEBASTIAN, Viola's lost brother
A SEA CAPTAIN
The doubling is as follows:
GROPIO (M): Orsino/Malvolio/Maria
TREMOLO (M): Feste/Sea Captain/Olivia
SIMPATICA (F): Viola (Cesario)/Toby Belch/Sebastian