"It's a terrible thing when children lie to their parents."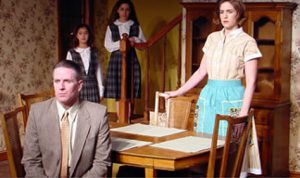 A paroled killer's return to his home town creates havoc for a neighboring family already struggling with Cold War paranoia.
Fourteen-year-old Jeannie Timmons and her little sister Nan are fascinated by the boy down the street—but he's not just any teenager with a motorcycle. He's a convicted killer whose return to the old neighborhood has sent their mother into a panic and their father into an unexplained crisis of conscience. How far will their parents go to protect them from a danger that might not quite exist? Set during a time of Cold War paranoia, this comic drama explores the necessity of deceit in the pursuit of absolute security. Finalist

, Bloomington Playwrights Project, 2011 Woodward/Newman Award
"Gregory makes October 1962 one of those all-too-rare accomplished plays where theatergoers are sure they can guess what really happened, only to find that the playwright has led them down the wrong path of the maze." – Newark Star Ledger
"An unnerving new drama … a decided Hitchcockian fabric to the steely narrative." – Daily Variety
"Is it too early to proclaim the Shore area's best new play of 2007?
For their first mainstage offering of the year, the people of New Jersey Repertory Company have dropped something of a quiet bombshell — a production that sets the bar high for everything to follow." – Asbury Park Press
Details
The action takes place in the home of the Timmons family in two weeks in October 1962.
Run Time: 2 hours
Tips
Cast of Characters:
For three women and one man
Jeannie Timmons, 14

Nan, her younger sister, 11

David Timmons, their father, 39

Laura Timmons, their mother, 36
History
Originally produced by New Jersey Repertory Co. Directed by Matthew Arbour.