"If you're going to even bother to have a religion, you ought to like, you know, live it."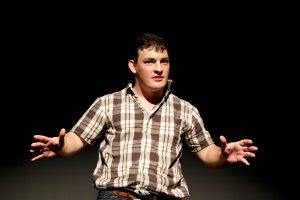 Two guys, one rusty old Honda, 24 hours to save a girl from her guru.
When Cliff Kozak's hip older sister falls in with members of a fundamentalist church, she suddenly cuts off the whole family as "toxic." A year later, an unexpected sighting of Denise propels Cliff and his best friend Duffy into the heart of a deepening mystery. Is she a victim or an accomplice in her own disappearance? And where exactly do you draw the line between faith and fanaticism? Rated "Best of the 2015 Capital Fringe: Five Stars," by D.C. Metro Theater Arts, which named it a "staff pick" for "favorite drama," "favorite show of the Fringe," and "favorite ensemble."
National award winner, Walden Theatre Co.'s (Louisville, Ky.) Slant Culture Competition, 2012.
Selected for development at New York University Steinhardt School's New Plays for Young Audiences, 2012.
American Alliance for Theatre in Education (AATE) Playwrights in Our Schools Award, 2011.
One-act version named a "Show You Can't Miss" by Philadelphia Weekly for 2009 Philly Fringe Workshop production.
Marilyn Hall Award 2009, honorable mention, Beverly Hills Theatre Guild (under title, 'Since You've Been Gone.').
Salvation Road "provides a satisfying and grounded dissection of youth, religiosity, family, and the psychology of cults." – Washington City Paper
"The play forces us to consider our own thoughts on the bonds of family, the meaning of sacrifice, and the seeming irrationality of faith.… The overall effect of Salvation Road is not unlike that of a cultish devotion: simultaneously satisfying and terrifying." – Washington City Paper
"An expert piece of craftsmanship." – D.C. Theatre Scene
"Salvation Road is a moving and well-crafted play, impressively staged and acted as part of Louisville's first Slant Culture Theatre Festival (of many, let's hope!). The play stirs emotions and engenders thought that will occupy audiences long after the stage is bare." – Arts-Louisville
"Every year the Fringe produces a few real standouts among its more serious offerings. D.W. Gregory's thoughtful and funny Salvation Road is an excellent example. Anchored by a talented young cast and brimming with intellectual brain food, Salvation Road is a powerful little play about the opaque nature of understanding and belief." –D.C. Metro Theater Arts
Details
Salvation Road was originally written for a cast of six to seven actors to double into nine roles and has been adapted for 12-16 performers doubling into multiple parts. It can be performed by a cast of 4-6 M, 8-11 F, depending on the needs of the company. It is also possible to expand the cast to include more actors into non-speaking or singing roles.
The play is available from Dramatic Publishing. A smaller-cast version can be requested from the author directly.
Run Time: 1 hour, 30 minutes
Tips
Cast of Characters:
PRINCIPALS
Cliff Kozak, 17, and earlier, in memory

Jill, his sister, 15, and earlier, in memory

Denise, their sister, 19 and earlier, in memory

Brian Duffy, Cliff's friend, 18

Elijah, early to mid 20s, a current member of the Disciples

Sister Jean, a campus chaplain
Rebecca, a current member of the Disciples
Simi, a girl, 20, who left the Disciples
ENSEMBLE
Four to eight other actors who double into roles as concertgoers, students, customers, and partiers, including the following:
Father's voice

Karl (or Karla), an impatient clerk at McDonalds

Melanie, a flirtatious clerk at McDonald's

Rachel, a member of the Disciples

Sarah, a member of the Disciples

Patti, a member of Denise's band

Jacob, a member of the Disciples

Tank, a member of Tau Kappa Epsilon
History
02.24.2017 – 02.25.2017
Harrison School of the Arts, Angela Harrell, dir.
03.04.2016 – 03.06.2016
Texas Lutheran University, David Legore, dir.
07.11.2015 – 07.25.2015
Capital Fringe Festival, Marie Byrd Sproul, dir.
11.08.2013 – 11.13.2018
Full Production – Walden Theatre, Louisville, KY
04.12.2013 – 04.21.2013
Seton Hill University, Kellee Van Aaken, dir.
11.08.2012 – 11.18.2012
Walder Theatre, Louisville, Ky, Alec Volz, dir.
10.26.2012 – 11.04.2012
NYU Steinhardt School, David Montgomery, dir.
06.16.2012 – 06.17.2012
NYU Plays for Young Audiences, staged reading, Dierdre Lavrakas, dir.
05.18.2011
Utah University Youth Theatre, staged reading
09.04.2009 – 09.12.2009
Art Riot Theatrical Co., Philadelphia Fringe, Aaron Oster, dir.