"Just cause you was born in a place don't mean you belong in a place."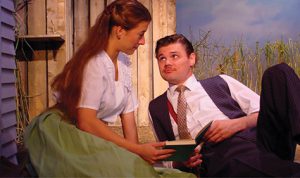 One man would tame a raging river, another his rebellious child. Neither can foresee the consequences. An epic story of love and defiance in World War I Missouri.
Shades of Lear color this stage drama of Ned Owen, a pious Missouri farmer whose dearest hope is to see his daughters settled and his family farm pass to the capable hands of one of their sons. In the summer of 1916, middle daughter Cassie appears about to concede to his wish that she wed a neighboring farmer–even though they both know her older sister Esther would make Rudy Bird a better wife. What can Ned do? Esther has been rendered unfit for marriage by childhood polio, and his compliant youngest daughter, Rachel, is still a child at 14. But one hot summer day, a local merchant's son arrives with an astonishing idea—to build a system of levees that would bring the ever-flooding Missouri under control. Though Ned laughs him off, Cassie is enchanted, finding in the young man's passion a focus for her own restless nature. But as she is drawn towards him, more powerful forces, in the form of a worsening drought and a distant war, threaten to unravel her best laid plans for happiness.
"D.W. Gregory's affecting family drama The Good Daughter boasts a flavorful, cinematic sweep. It's a sprawling tale of small-town family conflict centering on a prodigal daughter who inadvertently brings despair upon her return home. " – Variety
"Like some downstream eddy, The Good Daughter draws you in within seconds." – Asbury Park Press
"Gregory's sharply written slice of Americana … resists turning her people into cornpone caricatures, crafting instead, an intelligent script that challenges its cast and crew to deliver something truly extraordinary." – Asbury Park Press
"… a multi-faceted, thought-provoking traditional American play which stirs echoes of Eugene O'Neill." – Bob Rendell's New Jersey
"D.W. Gregory has written a classically American play that really digs deeply into the roots of our society and societal expectations." – Tri-City News
"Under Jason King Jones' un-fussy direction, the deluge of romance, regrets, recriminations, and rebellious behavior that propel The Good Daughter take an almost retro dramatic course. But it is a course that, for all its contrived arteries, is precisely and skillfully constructed." – Curtainup.com
Details
This thought-provoking drama stage play examines life, love and rebellion in rural America during WWI. This re-examination of the American Dream and its use of Shakespearean themes make this drama suitable for university and educational theater as well as professional theater. Exploring the themes of environmental and emotional destruction through human efforts to control nature and to control each other, The Good Daughter presents a deeply compelling romantic tale that was a runaway hit for its original producers. The small cast drama play features three roles for men and three roles for women.
Run Time: 2 hours with an intermission
History
Originally produced by New Jersey Repertory Co. Directed by Jason King Jones.