The Washington, D.C., premiere of Memoirs of a Forgotten Man by D.W. Gregory opens May 5  at The Washington Stage Guild.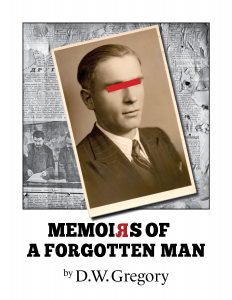 Directed by Kasi Campbell, the production features Stage Guild veterans Steven Carpenter, Laura Giannarelli, and Chris Stinson, with Lynette Rathnam making her Stage Guild debut.
A 2018 hit at the Contemporary American Theatre Festival, Memoirs of a Forgotten Man portrays the determination of a totalitarian regime to erase history, and the tragic effect that has on a man who can forget nothing.  The play is based on the true story of a Soviet journalist with a photographic memory, who finds himself and those around him in peril under as Stalin's authoritarian regime sets out to erase its political enemies.
"The Memory Man.takes great pride in setting the record straight," playwright D.W. Gregory says in an interview with the Stage Guild. "It's a bad habit that annoys his brother, delights his mother, annoys his editor, and brings on the unwanted interest of prying neighbors. So, yes, it's a political play, but, it's a personal story, too, about family, friendship, and loyalty."
The full interview with the author can be found at this link.
Performances are at 7.30 p.m. Thursdays, 8 p.m. Fridays and Saturdays, and 2.30 p.m. Saturdays and Sundays at the Undercroft Theatre of Mount Vernon Place United Methodist Church, 900 Massachusetts Avenue, Washington, D.C.
For reservations, or to join the theatre's email list call 202-900-8788 or go to www.stageguild.org. Tickets can be purchased at https://stageguild.org/buy-tickets/