LATEST WORKSHOPS & EVENTS
As the author of more than a
dozen plays for young actors
, I've been privileged to work as an artist in residence at a series of theatre programs and private and public schools around the country. I am available for short-term residencies, as well as one-day workshops and longer-term residencies.
Calendar
Memoirs of a Forgotten Man by D.W. Gregory will receive its Washington, D.C., premiere May 5 – 29 at The Washington Stage Guild.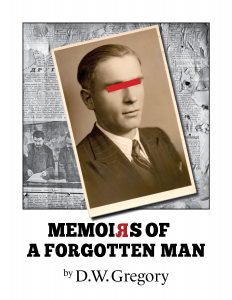 Directed by Kasi Campbell, the production will feature Stage Guild veterans Steven Carpenter and Laura Giannarelli.
A 2018 hit at the Contemporary American Theatre Festival, Memoirs of a Forgotten Man portrays the determination of a totalitarian regime to erase history, and the tragic effect that has on a man who can forget nothing.  The play is based on the true story of a Soviet Journalist with a photographic memory, who finds himself and those around him in peril under as Stalin's authoritarian regime sets out to erase its political enemies.
Performances will take place at the Washington Stage Guild's Undercroft Theatre, 900 Massachusetts Avenue, Washington.
More information can be found at www.stageguild.org. Tickets can be purchased at https://stageguild.org/buy-tickets/