LATEST WORKSHOPS & EVENTS
As the author of more than a
dozen plays for young actors
, I've been privileged to work as an artist in residence at a series of theatre programs and private and public schools around the country. I am available for short-term residencies, as well as one-day workshops and longer-term residencies.
Calendar
Memoirs of a Forgotten Man will receive a rolling world premiere through the National New Play Network. The play opens at the Contemporary American Theatre Festival and moves on to two more productions in 2019, at New Jersey Repertory Co. and Shadowland Stages. Check back for more details.
One more weekend for Rapid Lemon Productions' production of Dirty Pictures, a screwball comedy that upends stereotypes about disability and sexuality. Lance Bankerd directs a dynamic cast, including Terrance Fleming, Matt Payne, Allison Sarah Burrell, and Chara Bauer. Performances at the Baltimore Theatre Project , 45 West Preston Street in Baltimore, through Oct. 21.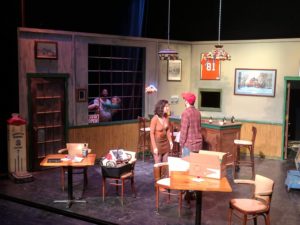 THE STORY: 
Colorado 1982: Thwarted lust and bruised ambition rule in Dan Briggs' bar. Judy, the quick-witted bartender, never lets her disability get in the way of what she wants – except when it comes to Dan, who only has eyes for Bonnie, a comely waitress with dreams of becoming a Playboy centerfold. Unknown to Dan, Bonnie's ticket to fame relies on an elaborate scheme–cooked up by his best buddy Chet–involving a classic motorcycle and a secret photo shoot. Chet's plans seems to be working out – until the photos of Bonnie fall into the wrong hands.
For tickets, go to the Baltimore Theatre Project at  https://www.theatreproject.org/
Radium Girls will enjoy a month-long run at the Maryland Ensemble Theatre in Frederick, Maryland, Feb. 15 – March 10, 2019. Directed by Gerald Stropnicky. Tickets go on sale Aug. 1. Contact MET's box office. or call 301-694-4744.