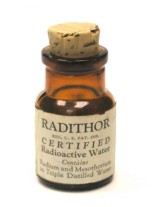 Metropolitan Playhouse presents the New York premiere of D.W. Gregory's RADIUM GIRLS, newly revised for a limited run from March 19 through April 12, 2020, at the Playhouse home: 220 E 4th Street. Laura Livingston (State of the Union, The Jazz Singer) directs.
Metropolitan Playhouse is an Obie-award-winning theater dedicated to plays about American history.
Previews Begin: Thursday, March 19, 2020
Opening Night: Saturday, March 21, 2020
Closing: Sunday, April 12, 2020
Performance times: Thursdays, Fridays, and Saturdays at 7.30 p.m.
Sundays at 3 p.m. Talk-backs follow each  Sunday performance.
More information on the production, including cast and crew, and for purchasing tickets for Radium Girls can be found at this link for Metropolitan Playhouse.