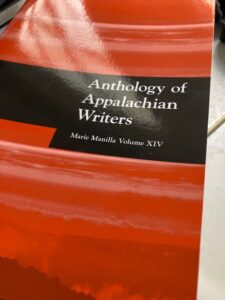 Playwright and fiction writer D.W. Gregory has been nominated for The Pushcart Prize for her short story, 'Mr. Kindness,' a fantasy about a lonely farm wife whose life is transformed by a visit from a mysterious seed salesman.
The Pushcart Prize honors the best literary works published in American small presses.
Mr. Kindness was the first prize winner in the 2021 West Virginia Fiction Competition and appears in the Anthology of Appalachian Writers, Vol. XIV,  published by Shepherd University's Center for Appalachian Studies and Communities and the West Virginia Center for the Book.
Four Writers Nominated from West Virginia
Gregory is one of four writers included in the anthology who were nominated for the honor. The nominations were announced Oct. 17 by Editors E.J.Wade and David O Hoffman, Editorial Advisor Marie Manilla, and Senior Managing Editor Sylvia Sherbutt.
The other nominees are:
West Virginia Poet Laureate Marc Harshman,  of Wheeling, WV, for "One Version."
Poet Mark DeFoe, of Buckhannon, WV, for "For Those Who Suffered from Trump Derangement Syndrome and Sacked the US Capital."
Poet Sue Silver, of Shepherdstown, WV, for "Deliverance."
Most Honored Literary Project
The Pushcart Prize: Best of the Small Presses series is the most honored literary project in America – including Highest Honors from the American Academy of Arts and Letters. The series has been published annually since 1976 under the direction of editor and founder Bill Henderson.
Winners of the Pushcart Prize will be announced in April.
The Anthology of Appalachian Writers is an annual volume that  provides a venue for publication of new writers from the Appalachian region, as well as a collection of literature, photography, and scholarship that contributes to an understanding and appreciation for the region. Thus, the volume features many of the premier writers of the region each year.
Novelist Marie Manilla was the Appalachian Heritage Writer in Residence in 2021 and selected the winners of the 2021 fiction competition. Past writers in residence have included authors Silas House, Charles Frasier, Barbara Kingsolver, and Dorothy Allison.
The Anthology of Appalachian Writers is available for purchase from Four Seasons Books  116 W. German St., P.0. Box 70, Shepherdstown, WV 25443. Call (304) 876-3486 or email​4seasons.114@gmail.com