In working on a new play, I find that one of the questions I frequently get from audiences is whether the production lives up to my expectations. The expected answer is a critique of how the acting and directing have transformed my words into something I never intended.
Often they are surprised to hear that the staging far exceeds any hopes or ideas I ever had for the piece. It's almost invariably a much better play than I wrote because of the contributions of all the other artists who've brought it to life on stage.
That's certainly true of the production of Memoirs of a Forgotten Man, playing through July 29 at The Contemporary American Theatre Festival. The collaboration of director, cast, designers and crew have created a spectacle that is truly amazing.
Seeing it on stage continues to startle me — did I really write that? — not just because the production is so stunning, but because each time I see it, the actors seem to find more and more in it.
Those discoveries also seem to come with the most responsive audiences – that necessary engagement that gives the performers the sense of comfort they need to settle into the moments and take a step into spontaneity. That's where the play truly comes alive. But getting to that point is a complex process.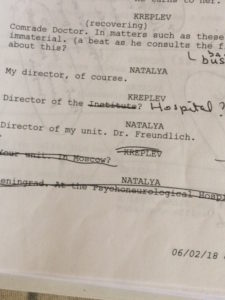 In rehearsal, the cast works through the roadmap that the script provides. Their job is to figure out what they're doing – literally, sussing out the actions. For my part, suddenly having actors on hand to read what I've been hearing in my head for months and months means that it becomes immediately clear where certain beats are overwritten – more words than needed to convey the action – or even unnecessary – and where certain moments really require more development.
Ultimately, if the actors can't figure out what to do, then the problem is the script.
In the course of developing this play (and others) I've heard actors say quite bluntly "why am I saying this?" And those are the most helpful moments in the process – finding the sticking points and figuring out why the actor is getting stuck. Invariably it's because I've gotten hung up on trying to make some kind of point and lost sight of the action.
Since this play went though a series of readings, as well as a weeklong workshop with the HBMG Foundation in Creede last winter, I had already done a fair amount of trimming before we started rehearsal. But there was plenty more to discover; much of the work was about clarifying certain moments, and I think there's more work to be done. But because the play is now guaranteed two more productions – a Rolling World Premiere that continues next summer at Shadowland Stages and New Jersey Rep — I have the luxury of being able to further refine the script with actors on hand.
But what is on stage right now is probably the best work I've ever done – and it's there thanks to the dedication and excitement of dozens of other artists who've grabbed hold of my script and created a new world on stage. There is no more humbling and astonishing feeling than that.