One of the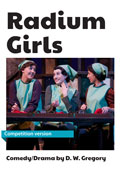 ideas I had for starting this blog was having a place to provide updates about my work.   As it often happens there's a long lull of not much to report followed by a burst of new developments.
Burst number one — the long-awaited one-act version of Radium Girls is now available here  from Dramatic Publishing.  Cover photo courtesy of Andover High School Drama Guild, which performed it so  well the students walked off with acting, design, and technical awards.
As I wrote in this post, I finally caved to pressure (encouragement) from a director friend to write a short version for his students to perform in competition. This came after many years of requests from high school drama teachers to do cuttings for competition. The publisher and I agreed that it made sense for me to write my own version — so here it is at last.
It's actually a 60-minute version cuttable to just under 40 minutes, and even before it was published, there were 10 productions lined up, continuing to win recognition for the students.
I've written before about the surprising trajectory of this work. Radium Girls has been produced in full around the country–65 productions last year alone–and occasionally outside of the U.S., with multiple productions in Canada this year.  I had never envisioned that kind of afterlife for the play—and I've been wondering for a long time how I can duplicate that success with another script.
I fully admit that I came to writing for young people reluctantly — Radium Girls not a script I ever imagined was suitable for high schools, and it was not my intention to market it to schools. But given the subject matter, the number of strong parts for women, and the fact that you can cast it with a lot more than the original nine actors, it is actually a great fit for schools.  And over the years I've come to see that I've got a manifesto–if I'm going to write plays for young actors, then I'm  not going to underestimate their intelligence or engagement in the world.
And that's what is part of what drove me to write another play of mine–Salvation Road–which will be staged this summer at the Capital Fringe Festival in D.C. (link here).  It was the winner of Walden Theatre Co.'s Slant Culture Festival competition and performed amazingly there by the young actors in the theatre's conservatory. It has been produced at New York University and Seton Hill University, and I've gotten some interest from several other schools this spring. So I'm hopeful of more productions later in the year.
That's the second burst! More on that play soon.