October 25, 2023 —Playwright D.W. Gregory's  is one of 13 writers included in the 2024 edition of COOLEST AMERICAN STORIES 2024, now available in paperback.
Coolest American Stories has been called "the best current fiction anthology on the market."
"I'm so psyched to be included in this anthology," Gregory said. "It's truly gratifying to know that my story will find a wider audience because of it."
Gregory's story "Mr. Kindness" was originally published in The Anthology of Appalachian Writers, Vol. XIV from Shepherd University and was the  2021 winner of the West Virginia Fiction contest sponsored by Shepherd University and The West Virginia Center for the Book.
Fiction as a Unifying Force
COOLEST AMERICAN STORIES 2024 is the third volume in  a series created by founding editors Mark Wish and Elizabeth Coffey.  COOLEST AMERICAN STORIES 2024 exudes its editors' philosophy that a collection of widely appealing short stories can make for common ground that could unite rather than divide Americans.
"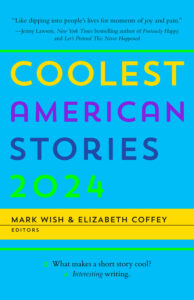 We want America to be cool again," the editors said in a statement posted to their website. "And we believe that the most earnest, unafraid, engaging storytelling–if it could be published and read and therefore given a chance–could make empathy and kindness fashionable again and thereby bring American coolness about. Hence our annual anthology."
COOLEST AMERICAN STORIES 2024 features a funny yet heart-stopping story by Agatha, Macavity, and Anthony Award winning Tara Laskowski, author of the heralded One Night Gone; a suspenseful and thought-provoking story about trust by widely acclaimed playwright D.W. Gregory; and rising star Matthew Goldberg's hilarious tale about family love in a future dominated by robotics and AI.
And since interesting storytelling―rather than a bunch of publishing credits―matters most to story-hungry readers, COOLEST AMERICAN STORIES 2024 also includes a laugh out loud page-turner about a young woman's search for love in Paris by brand new author Hannah Mumm; a shocking dystopian tale about sacrifices necessary for survival by up-and-coming author T. N. Eyer; and a haunting rural mystery by novelist Dennis McFadden―among others in this treasure trove of unputdownable, sharply written, sometimes comic, sometimes frightening, always suspenseful stories loaded with twists and turns.
The collection is available on Kindle through Amazon.com, on Nook through Barnes & Noble and in paperback from Amazon.