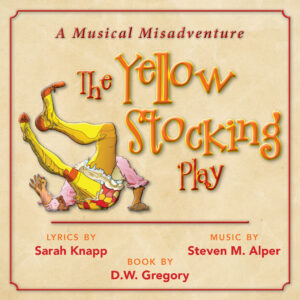 NEW YORK–The Yellow Stocking Play, a new musical comedy by D.W. Gregory, Stephen M. Alper and Sarah Knapp, is named 'Best Musical' in CreateTheater's New Works Festival.
Under the artistic direction of Off-Broadway producer Cate Cammarata in association with The Prism Stage Company, CreateTheater's 2023 New Works Festival ran from May 23rd to June 11th at Theater Row (410 West 42nd Street).
The Yellow Stocking Play also took awards for best book of a musical, best actor (Edward Watts) and best actress (Alyse Alan Louis).
A quick-change comedy, The Yellow Stocking Play presents the efforts of  broken-down Shakespeare troupe attempting a production  Twelfth Night with only three actors. Avalanches, crocodiles and food poisoning have decimated the troupe, but nothing creates more chaos than a back-stage romance gone wrong.
"THE YELLOW STOCKING PLAY was a hilarious romp with some beautiful, melodious moments of passion lit up by the Shakespearean low comedy antics of Sir Toby Belch played brilliantly by Alyse Alan Louis," said Ed Levy, a librettist-lyricist and one of the festival adjudicators.
With  book by D.W. Gregory;  lyrics by Sarah Knapp, and music by Steven M. Alper, The Yellow Stocking Play represents the first collaboration for the authors. Their current project is a musical adaptation of  Gregory's widely acclaimed Radium Girls. For six years in a row, the Educational Theatre Association has named Radium Girls among the ten  most produced plays in U.S. high schools.
Steven M. Alper &  Sarah Knapp are best known  The Immigrant, with book writer Mark Harelik. The Immigrant was produced off-Broadway and nominated for two Drama Desk awards.
For more information about CreateTheater, The Experts Theater Company and the New Works Festival, go to www.CreateTheater.com or to the Festival's homepage at www.newworksfest.org
For more details about the festival, read the full press release at Broadway World here.