For the second year in a row, Radium Girls, by D.W. Gregory, has been named one of the ten most-produced plays in U.S. high schools, edging up to the No. 8 slot from No. 10 in the 2017-18 school year.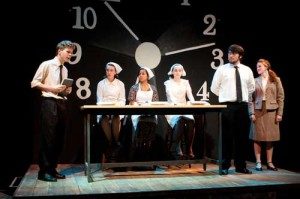 The Educational Theatre Association issued the results of its annual survey of 3,000 high schools Aug. 1. The list of the most-produced plays, musicals and one-acts can be found on the EDTA's website.
Radium Girls is based on the true story of the young women who worked in New Jersey factories, painting watch dials with radium-laced paint to create glow-in-the-dark timepieces. It was originally produced by Playwrights Theatre of New Jersey. Since publication by Dramatic Publishing, the play has received more than 1,000 productions in the U.S., Canada, and abroad.
The story:
Radium Girls traces the efforts of Grace Fryer, a dial painter, as she fights for her day in court. Her chief adversary is her former employer, Arthur Roeder, an idealistic man who cannot bring himself to believe that the same element that shrinks tumors could have anything to do with the terrifying rash of illnesses among his employees. As the case goes on, however, Grace finds herself battling not just with the U.S. Radium Corporation, but with her own family and friends, who fear that her campaign for justice will backfire. Written with warmth and humor, Radium Girls is a fast-moving, highly theatrical ensemble piece for 9 to 10 actors, who play more than 30 parts—friends, co-workers, lovers, relatives, attorneys, scientists, consumer advocates, and myriad interested bystanders. Called a "powerful" and "engrossing" drama by critics, Radium Girls offers a wry, unflinching look at the peculiarly American obsessions with health, wealth, and the commercialization of science.
More information about the play can be found at Dramatic Publishing's website, https://www.dramaticpublishing.com/radium-girls. A one-act adaptation for competition purposes is also available from Dramatic Publishing.