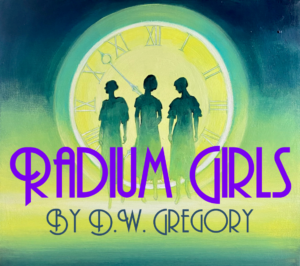 Metropolitan Playhouse, an Obie-award-winning theater, will present the New York premiere of D.W. Gregory's RADIUM GIRLS, newly revised for a limited run from March 19 through April 12, 2020, at the Playhouse home: 220 E 4th Street.
Laura Livingston (State of the Union, The Jazz Singer) directs an ensemble of 10 actors doubling into more than 30 roles..
Previews begin Thursday, March 19. Opening night is Saturday, March 21. Performance times are Thursdays, Fridays, and Saturdays at 7.30 p.m., Sundays at 3 p.m. Talk-backs will follow each  Sunday performance.
The story:
Radium in 1920: a miracle discovery with limitless applications, from iridescent paints and make-up to cancer treatment and health tonics. The craze for radium in the late 1910s and 20s meant big business for companies across the US. It also brought exciting opportunities to painters of illuminated watch faces: dexterous young women, often under 18, who kept the paint brushes pointed and supple with their lips. But when more and more of the girls found their bodies literally falling apart, their struggle for recognition and compensation pitted them against some of the most successful corporations of the day. Their battle set the model for future worker's protection laws in the United States, but not in time to save their own lives.
Read the full article at Broadway World.