Radium Girls by D.W. Gregory will receive its New York premiere at Obie-award-winning Metropolitan Playhouse, 220 E. 4th Street, in Manhattan.
The play has been newly revised for a limited run Oct. 28 – Nov. 21, directed by Laura Livingston.
Radium Girls is based on the true story of the women who painted watch dials with luminous paint at a time when radium was hailed as a miracle cure and marketed as a health tonic. The play traces the story of one dial painter, Grace Fryer, and her quest to uncover the causes of her mysterious illness and to seek compensation from her employer, Arthur Roeder.
While the casual consum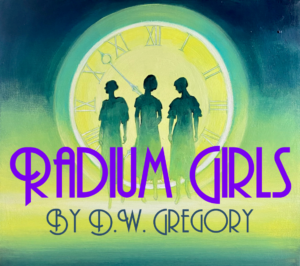 ption of radioactive materials may strike modern audiences with "an amused horror," the play's indictments of America's  "careless bauble- and profit-driven culture are bracing," Metropolitan says in an essay posted to its website.
"Radium was a dazzling fad and a marketer's dream. The companies that promoted it had far more too much to gain to be willingly transparent about the dangers their product posed to workers or consumers. The girls who believed their employers had too much to lose to question their treatment–until they had nothing left to lose at all."
The production features  Olivia Killingsworth (The Jewish King Lear, Icebound, Within the Law) as Grace Fryer and KELLY DEAN COOPER (Thunder Rock, End of Summer, A Man's World) as Arthur Roeder. The cast includes Metropolitan newcomers and veterans: Sydney Badway, MICHELLE BAGWELL, Grace Bernardo, Kate Falk , MARIE LENZI , KYLE MAXWELL, DAVID LOGAN RANKIN (Poor of New York, Shadow of Heroes, Within the Law), and Benjamin Russell (The Poor of New York, The Awful Truth).
Set is by VINCENT GUNN (Shadow of Heroes, State of the Union), costumes by NYIT Award winner Sidney Fortner (The Jewish King Lear, The Climbers, A Marriage Contract), lighting by HEATHER M. CROCKER and sound by Bill Toles (Walk Hard, Shadow of Heroes).
METROPOLITAN PLAYHOUSE, beginning its 30th season with Radium Girls, explores America's diverse theatrical heritage through lost plays of the past and new plays of American historical and cultural moment. The theater received a 2011 OBIE Grant from The Village Voice for its ongoing productions that illuminate who we are by revealing where we have come from.
Called "invaluable" by the Voice and Backstage, Metropolitan has earned further accolades from The New York Times and The New Yorker. Other awards include a Victorian Society of New York Outstanding Performing Arts Group, 3 Aggie Awards from Gay City News, 21 nominations for NYIT Awards (3 winners), and 6 AUDELCO Viv Award nominations.
Tickets can be purchased online at http://metropolitanplayhouse.org/tickets.
More information about the production is available at http://metropolitanplayhouse.org/essayradiumgirls.