"Three Rings, No Diamonds," a new ten-minute comedy by D.W. Gregory,  will be featured on a bill of short works at Magnetic Theatre of Asheville, N.C., June 11-12.
The play is a two-character piece about a relationship coach and  her most difficult client.
"He's a real guy kind of guy," Gregory says of the client. "The kind of guy who is not shy about being a guy– meaning he's desperately in need of her counsel, which he'll probably ignore."
As for the coach?
"She takes no prisoners. But she does take Venmo."
"Just a frothy bit of fun," Gregory adds.
Magnetic Theatre's One Act Play Festival includes 14 one acts, broken up into two shows. Gregory's comedy will be performed Friday, June 11 at 7.30 p.m. and Saturday, June 12, at 4 p.m.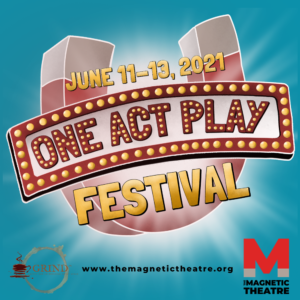 The bill of one-acts also includes:
Banana Gun by Mary Beth McNulty
Memory is a Thief by Sean Murphy
A Splash of Red by Kym Fraher
Dis/Connect by Sage Martin
When I Fall In Love, It Will Be… by Susan Middaugh
Lighted Fools by Bridget Grace Sheaff
For more information on the performances or to purchase a ticket, go to the theatre website.